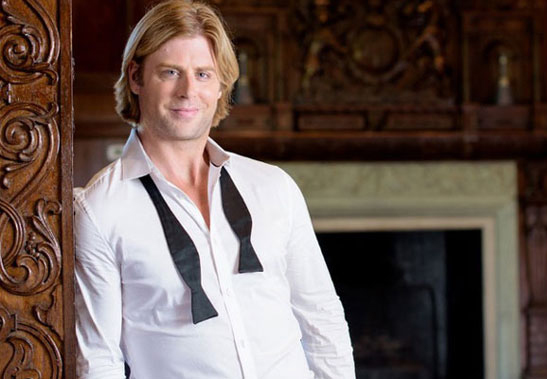 Beau Davidson writes and performs music reminiscent of the soulful inflections of "the Memphis sound", in a cross-genre capacity...
Citing Elvis as a main source of inspiration, Beau has always been fascinated by the musical boundaries that Elvis transcended while also balancing a career on screen. Inspired by that talent, Beau is a member of the ensemble cast of the feature film, "The Ultimate Legacy," playing opposite Lee Meriwether, Raquel Welch and Brian Dennehy.
Last fall, the Memphis born multi-genre vocal sensation teamed up with Jay Siegel's "Tokens" and Nashville hit-making producer Jimmy Nichols (Carrie Underwood, Faith Hill, Reba McEntire) to record a heartfelt and re-imagined rendition of the beloved song, "The Lion Sleeps Tonight."
First released in 1961, the song was a massive worldwide hit in 36 countries. Mr. Davidson was gracious enough to share a few thoughts with jungleroom.com:
Your remake of "The Lion Sleeps Tonight" is absolutely amazing--is it safe to assume there was an effort to stay faithful to the original version but still capture a contemporary sound?
Very accurate. We used the term "re-imagine" rather than "cover" because a "cover" implies essentially a copy of the original, with some minor artistic alternations. This attempt was to build the song from the ground up, with melody intact, and basic chord structure, but with many new structural changes. For instance, the song opens with authentic African percussion and a pennywhistle, and is in a straight 16th note rhythm as opposed to the 2/4 feel of the original. We started in the key of C, which modulates to the original key of F after a spoken word bridge and massive brass transition. That's when Jay comes in.
What was it like to record with Jay Seigel's Tolkens? Where did you record the song?
We tracked at Reba McEntire's Starstruck Studios in Nashville, one of the city's elite places. The room's sound and equipment are just sensational. I was a little nervous at first to have Jay and the Tokens there, because you don't know what they think of a new version of the song. It was Billy Reed of the Tokens who described the rhythm as "Afro-Cuban" and loved it. Jay provides that signature pristine falsetto, and they all expressed their excitement for this new version.
It is extremely impressive to have Dereck and Beverly Joubert(from The Big Cats Initiative) involved with the project... how did this collaboration come about?
We had filmed the studio process, which provided a behind-the-scenes "making of" documentary. I didn't think this was sufficient to release as a music video, because as interesting as it was, culture is so visually stimulated these days, especially on the internet, that I knew we needed something bigger. So I cold-emailed Beverly Joubert by almost guessing at her email address, and within weeks I got a response, and the conversation began. We sent the hard drive to South Africa, where their editor Candice Odgers masterfully pieced together these beautiful images of lions in the wild. I knew we had something original and very watchable.
There are a lot of strong feelings related to the Cecil the Lion tragedy....do you have any views to share concerning poaching/trophy hunting?
I think everyone had a painful reaction when learning about Cecil, because it just stunk of criminality and tragedy. I am an animal lover but I am also pragmatic when it comes to these issues, and luring an animal out of a protected area, so that it can be beheaded and taken back for trophy is just not acceptable. That dentist is not the only one to blame in this, but the world needs to be more cognizant in combating illegal trade and poaching.
What was it like to work with such an impressive cast (Raquel Welch, Brian Dennehy, Doug Jones, Lee Meriwether, Bill Cobbs, etc.) in "The Ultimate Legacy"? Did you learn anyting from them?
I didn't have the luxury of working with Raquel, because none of my scenes were with her, but I did get to interact with Lee Meriwether, who was the epitome of elegance and beauty, as well as Bill Cobbs and Brian Dennehy, the consummate professionals. You always watch actors to soak up any tips they may have!
Do you have any future plans for more acting?
I certainly hope so! I was given the good fortune of acting and singing my original song "Blessed" in the movie, which was very, very unique, so if I can continue to be actor, singer, and composer in film, I think that will continue my unique career. Elvis himself was well-known for acting and singing in his films, and I'd like to model myself after that pattern.
Are you primarily based in Nashville or Los Angeles? Do you get back to Memphis very much?
I am based in Nashville now, but I do get back to Memphis, which will always be home to me. I went to PDS and MUS, so I sometimes swing by old places just to relive some memories.
Your voice has been compared to Elvis Presley--is he a big musical influence for you?
You can't be a Memphian without some Elvis in you. Even though he died before I was born, I always valued his sheer showmanship and relationship with his audience. Back in 2003 or so, I auditioned for a staged version of Jailhouse Rock that was being mounted on the West End. I was flown to London, and ended up losing Elvis' role of Vince Everett to Mario Kombou, an international Elvis impersonator. The show lasted just a few months, in many ways probably due to the fact that they could not license the Lieber and Stoller catalogue, so it was devoid of many of the songs that were in the movie. It had the potential to be superb, but just collapsed before it even got off the ground, so maybe I was spared from that.
Which is your favorite Elvis genre--do you prefer the 1950's Sun Records recordings, the Chips Moman-produced late 60's American Studios records, the Vegas days, etc.?
I like the 50s and 60s recordings, but especially the 68 Comeback Special. I always preferred some of the sweeter tones on the ballads and the young grit he had in "That's All Right Mama."
You have cited Otis Redding and Al Green as musical inspirations--is it fair to say you are a fan of the "Memphis Sound"?
I love the Memphis Sound! The horns just made it, Otis and Al had that "sweat in the mic" sort of quality that you don't hear anymore, in the digital age. Plus, vocals were tracked in real time, which I did with my new album, and that is unconventional in today's recordings.
Do you have an appreciation for the Willie Mitchell/Hi Records recordings--are you a fan of the artists that recorded on Stax Records?
I have grand appreciation for the Willie Mitchell recordings- in fact- even Al Green's "I Can't Stop" album, I still hear that signature Willie Mitchell "thing" in the song "Rainin' In My Heart." The B3, the bass walkdowns, the strings, the female BGVs..they all just mix and make that Willie Mitchell signature sauce.
Ever thought about recording a soul song in Memphis---maybe Royal Studio? Paul Rodgers, Cliff Richard and Bruno Mars have recorded some interesting stuff there lately...
I would JUMP(!) at the chance to do a soul recording in Memphis. The Bruno song was a production masterpiece. My songwriter pal Steve Dorff ("I Cross My Heart") were talking about this recently. I think recording in Memphis is a great thing because it retains the Memphis "humidity" that is signature in so many recordings. If there's an opportunity or producer that wanted to work with me- I would do it in a heartbeat! I have the idea of doing a soulful duet with Tori Kelly in Memphis.
What plans do you have for 2016--more work to bring awareness/help to our veterans?
Certainly. I just performed down at the West Palm Beach VA Center, which was a moving experience. "Blessed" just keeps getting wonderful and touching reactions from veterans and their families, so I will continue to support them. We are soon releasing my album "The American Gentleman" so there is great excitement afoot.
What is next for Beau Davidson?
More creativity, innovation, collaboration, film, TV, and success, I hope!